WARNING
This article uses licensed content from Wikipedia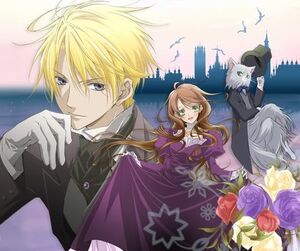 Hakushaku to Yōsei (The Earl & the Fairy)
(伯爵と妖精, lit.
Earl and Fairy
) is a series of light novels written by Mizue Tani and published in Japan by Shueisha. The story is serialized in Cobalt magazine and illustrated by Asako Takaboshi.
Shueisha has commercially released two drama CDs, and a manga adaptation has begun serialization in The Margaret since the September issue in 2008.
An anime adaptation was broadcasted from September to December 2008. A visual novel for the PlayStation 2 was released on April 30, 2009.
Ad blocker interference detected!
Wikia is a free-to-use site that makes money from advertising. We have a modified experience for viewers using ad blockers

Wikia is not accessible if you've made further modifications. Remove the custom ad blocker rule(s) and the page will load as expected.